The Discovery Channel's Times Square event space has been home to all manner of awesome exhibits over the years, but for Marvel Comics fans, this one is probably the end-all-be-all. We've got the concept art and details for Marvel's Avengers S.T.A.T.I.O.N. at Discovery Times Square opening Friday, May 23rd after the jump.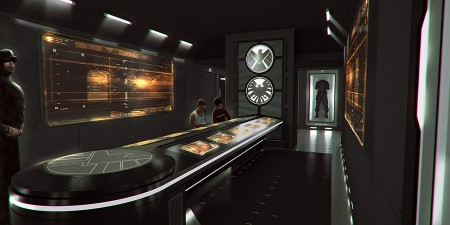 First off, these are renderings and not actually what the exhibit looks like since it's not open yet. We do know that this is what the exhibit should loo like since these are approved images and should be pretty darned close to the final product and what you'll be walking through when the show opens at the end of this month.
Now for the good stuff; in all, S.T.A.T.I.O.N. will have multiple rooms and cool stuff pertaining to the Marvel Cinematic Universe's version of the Avengers and the now defunct intelligence agency S.H.I.E.L.D.
Within the exhibition, visitors will map out the stars to find Asgard, learn to operate Iron Man's suit, witness the neurological effects of Bruce Banner's transformation into the Hulk, physically test themselves against Captain America, and receive access to some of S.H.I.E.L.D.'s most highly guarded artifacts recovered after the Battle of New York such as Captain America's Birth Pod, the Tesseract Portal Device, Loki's Scepter, a hermetically sealed Chitauri and more.
If you're a Marvel fan and that doesn't get you excited, then I don't what you're thinking because this is some pretty awesome stuff. Have a peek at the images in the gallery below, and remember that Marvel's Avengers S.T.A.T.I.O.N. at Discovery Times Square opens in the heart of New York City on Friday, May 23rd.