Marvel Comics has made official the Marvel 75th Anniversary Omnibus, a massive 1200 page tome loaded with the best comics from the company's history. And the best part is they're going to be fan picked.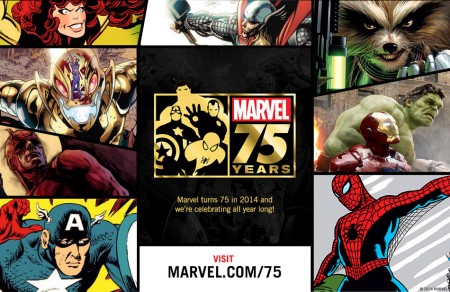 "Marvel's 75th Anniversary belongs to our fans as much as it does to our creators and everyone behind the scenes," says Marvel SVP of Sales & Marketing David Gabriel. "From day one, Marvel fans have been an integral and vocal part of making Marvel the company it is today and we want their help in celebrating. The 75th Anniversary Omnibus is the perfect way to celebrate with our marvelous fans. Email your picks for the best Marvel comics of all time to [email protected] – and see if yours makes it to print!"
Pretty cool Marvel, pretty cool. Giving fans the chance to choose which comics from throughout the company's long 75 year history will appear in the book to celebrate the total history of Marvel is a great move- not to mention just plain awesome. I doubt there are too many Marvel fans out there who don't already have a list of their favorite books from whatever era they remember fondest anyway, and to actually have the possibly that they might appear (and to know that you helped put them there) in the Marvel 75th Anniversary Omnibus, that's just all kinds of awesome.
The rules are pretty simple here, but just in case there's any confusion on how to enter your favorites in the competition:
The first appearance of Captain America, the Death of Gwen Stacy, the coming of Galactus, Civil War and everything in between! From the first time four adventurers flew a fateful mission to outer space to the epic clash of Avengers vs. X-Men. Tell us what you think the best Marvel stories of all time are! Email your picks to [email protected] to help us decide which stories to print. It's that simple! Pick your top 75 or just your number #1. Once the votes are in, we'll choose the best ones to print in this enormous 1200 page book and we'll release the top 75 as a special digital exclusive collection!
With 1200 pages to play around with, there's plenty of room for the best of the best stretching form Marvel's dawn in 1939's Marvel Comics #1 to today. And with all the Marvel fans out there who are probably going to be sending their lists in to the above email address, they're going to need every page in there.
Look for the Marvel 75th Anniversary Omnibus to launch at retail this coming November too, just in time for those Holiday gift lists…