The tabletop role-playing game based on the Valiant Comics Universe is going to hit large, flat surfaces later this Summer, but the Quick Start rules for the game have been released already landed in digital form.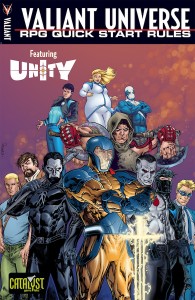 Ripe for an RPG, the Valiant Universe will arrive for tabletop gamers this coming July, but publisher Catalyst Game Labs' title based on the heroes and villains of the comics group have already arrived in the form of Valiant Universe RPG Quick-Start Rules: Unity. The pack details and allows players to play through the first meeting between X-O Manowar and the superteam Unity. A confrontation that started one of the biggest events in Valiant's line to date.
So why release a Quick Start set digitally before the main event hits stores? As Catalyst developer Randall N. Bills explains:
"From the get-go, Catalyst Game Labs has embraced the digital side of gaming," said Randall N. Bills, Managing Developer for Catalyst Game Labs. "By preceding the release of the upcoming Valiant Universe RPG on store shelves in August with the release of Valiant comics at DriveThruComics and an unprecedented rollout of QSR content online, we're adding to the excitement for anxious fans, while ensuring the best possible experience for players interested in checking the game out. It's been brilliant working with Valiant and DriveThru to bring this together."

"Already, fans all over the world are clamoring to see what Catalyst has up its sleeve for the Valiant Universe RPG," said Russell A. Brown, Valiant's President of Consumer Products, Promotions, and Ad Sales. "These Quick Start previews are a perfect introduction to the nuanced and high-stakes world of Valiant's indomitable heroes. Whether you're a longtime fan of Valiant's characters, or meeting them for the very first time, get ready for a new experience in gameplay unlike anything else out there today."
Going forward from here, things are only going to pick up for the game. On Free RPG Day, June 21st, (which I'm guessing is something new…) gamers can expect to see another pack released highlighting another of Valiant's big events- Harbinger Wars. Not released in digital form, but a physical packaged edition, the Harbinger Wars set will be available at participating retailers around the nation.
This is all before the actual game arrives too, which is set for July 5th. That complete version of the first-edition tabletop game will figure in a lot more characters and scenarios too, so watch for that if you're one of the Valiant faithful. If you'd like to get in on the pre-release hubbub and snag a digital copy of that Unity set, click here or here for the DriveThroughRPG page for the game. You can also check out a catchall page for the Valiant Universe RPG on DriveThroughRPG.