Hinted at back in the early part of this year on Larry King,  Tony Hawk's newest title from Activivion is indeed coming to mobiles and will slide on over to iOS and Android platforms presumably some time this year.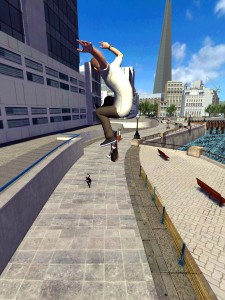 Don't let the 'mobile' tag fool you, Tony Hawk's Shred Session is as full-featured a skateboarding game as any other title published under the banner of one of the most influential 'boarders of the past few decades. That said, the play mechanics in developer Big Bit's newest game  have been simplified and stripped down to only one finger input. That's right, you'll only need a single digit to swipe your way to skateboarding glory in Shred Session, and that's just the way Hawk wants it as he leads the franchise in a new direction.
"I'm stoked that Activision shares my vision for an original skateboarding game on mobile," said Tony Hawk. "It's exciting to evolve with new technologies, and Shred Session is a whole new direction."
Including locales like Santa Monica and London, Shred Session features a pair of play modes. The first, titled Survival, tasks players with pulling off a continuous stream of tricks and combos. Once you fail a stunt or let your combo lapse, you're out. With the simplified control scheme, I imagine this'll be easier than it might have been on consoles, but still should provide a solid challenge for virtual skaters.
The second mode is a little more forgiving, and a lot more familiar. Called Shred Session (hence the name of the game), gamers can look for classic THPS goals in this one. It should feel like home to anyone who's played (to death) any 0f the franchise's early games on the PSOne or the recently releases XBLA, PC, and PSN revival.
A half dozen modern skaters are included for you to play as (Chris Cole, Aaron "Jaws" Homoki, Lizzie Armanto, David Gonzalez, Riley Hawk, and Tony Hawk) and each will have their own signature moves, so if you're a fan you should recognize the way your pro skates as well as his/her looks. And speaking of which, you can also expect to be able to dress your skater in "real skate brand apparel". Additionally, "decks can be customized with signature designs that include bonuses to help reach even higher scores."
Expect to see more on Tony Hawk's Shred Session as the year progresses, as for now though, we know that you'll be able to ollie your way on over to the iOS and Android platforms upon the title's release.