As variant covers go, this one's pretty darn awesome.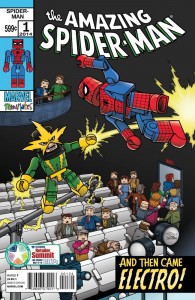 Marvel Comics is teaming with DST (Diamond Select Toys), to produce the cover art for an alternate edition of this week's Amazing Spider-Man #1. The cover features Spidey vs Electro in a Minimate re-enactment of the first run of the book's issue number eighty-two from the 1970's.
Inside the cool cover art though is the same book that's currently telling the all-new story of Peter Parker and his return to the webs- and subsequent battle with a recharged and reenergized Electro (and just in time for the major motion picture featuring both characters too). This specially covered issue was designed by lead Minimates designer Barry Bradfield and is limited to a measly 6,000 books. It's also only being offered to Diamond retailers who will be attending the Diamond Retailer Summit in Las Vegas, so it's got a number of factors that pretty much all add up to it being somewhat tough to find on the racks.
The cover should be out there in the wild right now though, at your local comics shop.