EA and Bungie's next big thing ventures into what's left of Russia to route out some nefarious aliens out to make a very bad day for mankind.Sounds lilt the kind of thing you might need a super-cool, special edition speeder-bike for…
There's a lot to like in that trailer if you're a shooter fan, and even more if you're a Bungie fan in particular. Much of what the team is showing off about Destiny this time around should be very familiar to fans of the developer with lots of stuff you'd expect from Bungie. Fast action with a strategic element, high-powered weaponry and the designs of the alien forces all have that indelible Bungie stamp. Also today, the company revealed a look at the pre-order incentive for the game should you be buying at GameStop.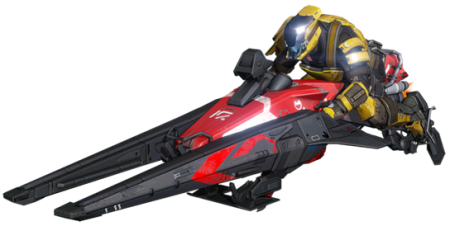 GameStop Power Up Rewards subscribers who pre-plunk down their cash for a copy of Destiny now will be in for a special Upgraded Sparrow vehicle. The GameStop special edition of this cool little speeder-bike-like ride includes an "upgraded boost, faster speed, and higher durability than the standard Sparrow", all of which is sure to come in handy when you're traversing the wind-swept mesas of Mars or the jungles of Venus.
Destiny is set to arrive on the Xbox One/360, PS4/3, and PC on September 9th.