X-Men mainstay Storm is getting her first ever book this Summer from Marvel Comics.
This May, the heart and soul of the X-Men flies solo for the first time in STORM #1, a brand new ongoing series from New York Times Bestselling writer Greg Pak (The Incredible Hulk, Superman/Batman) and fan-favorite artist Victor Ibanez (Defenders, Wonder Woman)!

From a thief on the streets of Cairo to the Headmistress of the Jean Grey School to the Queen of Wakanda and everything in between, Ororo Monroe has always defied a single title. Her desire to better the world was never limited to just her own kind. On a mission to foster goodwill and safeguard her fellow mutants in her own way, Storm will embark on a new journey.

"If you tell Storm she can't go somewhere, that's exactly where she's going to go," says writer Greg Pak, in an interview with Marvel.com. "She's got an incredibly strong sense of justice and empathy earned through years of hard experience. And her empathy isn't limited to whatever group she's standing with at the moment. Storm will do the right thing–as she sees it–without apology. That's incredibly strong–and potentially very costly for her."

STORM #1 marks the very first ongoing series for the character and joins a number of critically acclaimed new solo series featuring female leads as a part of the All-New Marvel NOW! initiative.

"And Storm makes seven," says Editor In Chief Axel Alonso.  "Starring for the first time in her own ongoing series, and joining the wave of new series anchored by female characters — a list that includes Black Widow, She-Hulk, Captain Marvel, Elektra, Ms. Marvel and the all-female X-Men — comes one of the world's most popular mutants."

"It's about time," Alonso continued.

You cannot stop a force of nature. She is Storm, a hero with no equal…and the skies will tremble at the sight of their namesake! Get swept up as STORM #1 thunders into comic shops this July!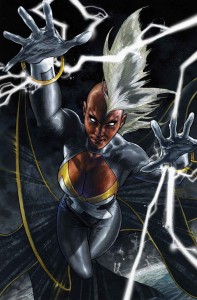 'it's about time' is right. Storm has been a major part of the Marvel Universe in general and the X-Men in particular since her debut in the '60s with Giant-Sized X-Men #1 (a serious classic of the genre). Now she'll not only be joining some exciting new female protagonists in solo books, but she'll also be lining up in Marvel's monthlies with several other X-Men new to the non-team side of comic.
Ororo joins the likes of Cyclops, Nightcrawler and of course, Wolverine in solo stories, which is a first I think. I can't remember any other time in history that a quartet of X-Men have had their own solo comics, so as a fan that's just cool to see on top of every other reason to dig Storm in her own book. A book, by the way, that you'll be able to check out when it hits the stands this coming July from the team of Greg Pak and Victor Ibanez.