Two more of Valiant Comics' marquee books will be getting Armor Hunters mini-series all their own this July.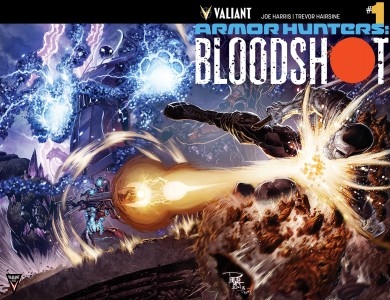 Why just let X-O Manowar in on the Armor Hunter action? After all, there's plenty of invading ET's for all the big heroes of the Valiant U- including Bloodshot and the guys and gals of Harbinger. Running three issues a piece, both books will be getting to star in their own little branches of the action with Armor Hunters: Bloodshot and Armor Hunters: Harbinger, due this July.
Out of the earth-shattering events of ARMOR HUNTERS #1 (of 4), the summer's biggest crossover event continues with two essential mini-series at the epicenter of X-O Manowar's battle against a relentless team of hunter-killers who will stop at nothing to rid the universe of his armor's incalculable destructive power.

First, on July 23rd, Project Rising Spirit's most dangerous soldier brings the hunt to the hunters inARMOR HUNTERS: BLOODSHOT #1 (of 3) by fan favorite writer Joe Harris (Great Pacific,The X-Files: Season 10) and superstar artist Trevor Hairsine (X-Men: Deadly Genesis)!

Then, on July 30th, the breakout stars of last summer's HARBINGER WARS – the volatile psiot strike force known as Generation Zero – step out of the shadows and into the crosshairs of a devastating extraterrestrial attack in ARMOR HUNTERS: HARBINGER #1 (of 3) by New York Times best-selling writer Joshua Dysart (Harbinger) and rising star Robert Gill (Batgirl)!

Start reading here to begin two all-new, entirely self-contained adventures at the heart of Valiant's blockbuster summer event – or follow the complete ARMOR HUNTERS saga across ARMOR HUNTERS, UNITY, X-O MANOWAR, ARMOR HUNTERS: BLOODSHOT, and ARMOR HUNTERS: HARBINGER! With each introductory issue featuring one of five limited edition Chromium covers by some of the biggest talents in comics today – including Jorge Molina (X-Men), Mico Suayan (Ultimate Cataclysm), Clayton Crain (RAI), Philip Tan (Green Lantern), and Lewis LaRosa (Punisher MAX) – each armor-plated ARMOR HUNTERS issue represents an all-new jumping-on point for Valiant's star-studded crossover epic.
And of course, if you're looking for exclusives, Valiant has those awesome Chromium covers on the way. If your local comics shop has 'unlocked' ordering for the variants, you'll find the flashy alt covers on the racks right alongside the standard editions of ARMOR HUNTERS #1 (of 4),UNITY #8, X-O MANOWAR #26, ARMOR HUNTERS: BLOODSHOT #1 (of 3), and ARMOR HUNTERS: HARBINGER #1 (of 3)
Valiant is looking to shoot to the top of your 'read; pile this Summer and the Armor Hunters books are right at the forefront of that initiative. Get ready for the threat from beyond, Armor Hunters kicks off in June, with books running all the way through the rest of the year's hottest months.