Gonna have me some fun tonight.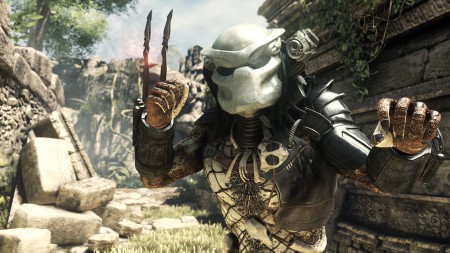 "Devastation is another incredible offering for fans to sink their teeth into," said Daniel Suarez, Vice President of Production, Activision Publishing, Inc. "With an array of new maps tuned for the fast-paced, run-and-gun action Call of Duty is best known for, new weapons in both multiplayer and Extinction mode, the next chilling entry in the game's Extinction story, and now the Predator – Devastation continues the unparalleled season of Call of Duty: Ghosts post-launch content."

"Activision and Infinity Ward have done a tremendous job in bringing the Predator to life within Call of Duty: Ghosts," said Mike Doyle, Head of Fox Interactive Games. "The Devastation DLC Pack was a perfect opportunity to pair two incredibly iconic and complementary brands – Call of Duty and Predator, and we're extremely pleased with the explosive result."
Following up on the appearance of horror icon Michael Meyers in the last DLC pack, Infinity Ward has the famous jungle hunter himself, the original Predator, on hand for Devastation. Much like the Meyers appearance too, players can expect to see a special stage built up around the character and a specific set of field orders arranged that must completed to play as the reptilian stalker. And this is a pretty darned accurate representation of the character too, complete with shoulder cannon and infrared sight.
Set in a multi-level Mayan temple, "Ruins" provides the verticality needed for long-range weapons, while the underground pathways below are perfect for close-quarters showdowns. Skilled players that find and complete the map's unique Field Order will have the ability to become one of Hollywood's most formidable action film stars and the galaxy's ultimate hunter, the deadly Predator. As the Predator, players will brandish its dual wrist blades and shoulder-mounted plasma cannon, as well as be able to utilize the creature's keen hunting abilities to track down enemy players.
There's plenty more about Devastation to like however. The pack also includes an additional three maps, a new Extinction stage called 'Mayday', and a new 2-in-1 weapon called the Ripper which has both SMG and an assault rifle modes.
You can grab the pack now solo or as a part of the Season Pass for Ghosts on the Xbox One and 360. PS4/3 and PC versions are on the way as well, but there's no release date as of yet.