Get ready to manage your team to victory in "win and you're in" style.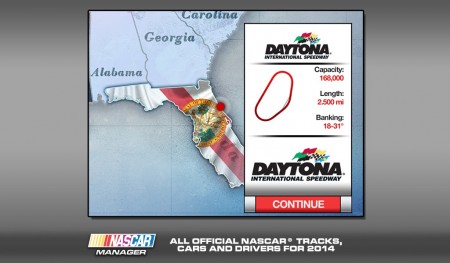 Developer Eutechnyx has updated the game, which sets players in the logo-covered jackets of NASCAR crewe chiefs, to include the newest rules set forth by the sport. Basically, that means things are going to get a while lot rougher for you to manage your squad to the championship. The so-called 'knock out' format of the races tasks you with securing at least one win in order to grab one of the 16 spots available in the Chase race. And once you have your spot, there's no easy going here as that pack will see itself cut from 16, to 8, and finally to 4 cars that'll race for the Sprint Cup.
You'll also find three new boosts here (Super Tires, Super Fuel and Super Chassis) to help you bypass the pit stops and stay in the race, which is exactly were a good race manager wants to be. NASCAR Race Manager is available right now, complete with this update, on the Apple App Store, Google Play, and Amazon.
Eutechnyx full on NASCAR '14 is also on the shelves right now for the Xbox 360, PS3, and PC; you can find our review here.