Appearing for the first time ever in hi-def, Mario and the whole Karting crew are looking as good as ever and have some new tricks up their collective sleeve in Mario Kart 8.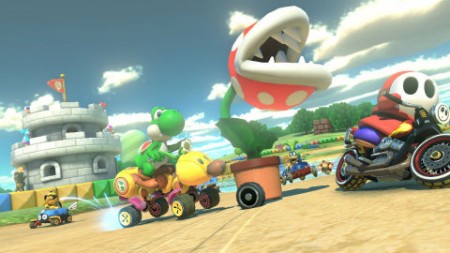 I anyone not a fan of Mario Kart? I don't think I've ever met any gamer (especially not any gamer who's old enough to remember the SNES original) who doesn't love the series almost as much as the games that it's based on. Mario Kart 8 might be the most exciting MK in a good long time too since there's just so much that's new and different about it.
While the core game is definitely the same (and there's nothing wrong with that), there are a whole mess of new and returning characters that we haven't seen for a while on the roster of playables. You can once again rev up as a ShyGuy for instance, and for the first time ever, get behind the wheel as all seven of Bowser's kids- the Koopalings.
In addition, you can also play around with some new power-ups (piranha plants!) and invert gravity as you careen around the ceiling and even the walls in some levels. Once again there are remixed versions of older courses included here too, just like in the 3DS' Mario Kart 7, as well as plenty of new ones. Personally, I'm excited about it as it's yet another Nintendo core franchise that's been sorely missed in the first year and change of the Wii U's life.
Here's a rundown of what's new and exciting this time around the track:
Spin Boost: While racing upside down or on walls, players can bump into other racers or certain track obstacles to get a speed boost. The Spin Boost fundamentally redefines the way that players compete, and makes anti-gravity racing even more exhilarating.
Returning Characters: In Mario Kart 8, players can race with returning characters Metal Mario, Lakitu and Shy Guy. These newly revealed returning characters join a host of previously announced favorites, including all seven of Bowser's Koopalings, who are playable for the first time in video game history.
New Items: Two new items join the fray in Mario Kart 8. First, the Piranha Plant attaches to the front of the player's kart and chomps at other characters, banana peels on the track or even shells thrown by other characters. Each time the Piranha Plant lunges forward to bite, the player receives a brief boost of speed. The second new item is the Boomerang Flower. After acquiring it, racers can throw a Boomerang at opponents to stun them, and its arc allows players to strike multiple opponents with a single toss. The Boomerang can be thrown three times – forward or backward.
New Courses: Remixed classic courses make a return in Mario Kart 8, with favorites such as Moo Moo Meadows from Mario Kart Wii, Toad's Turnpike from Mario Kart 64 and Donut Plains from Super Mario Kart, among others. The graphics and layout of these courses have been redesigned and re-imagined. For example, Toad's Turnpike now allows players to drive up certain walls in anti-gravity mode.Mario Kart 8 will include 16 new courses and 16 remixed classic courses.
Live Recorded Music: For the first time in the Mario Kart series, select courses in Mario Kart 8 feature music recorded by live performers.
Control Scheme: Mario Kart 8 will support a variety of control schemes, including the Wii U GamePad, the Wii U Pro Controller, the Wii Wheel and the Wii Remote and Nunchuk. The game can also be played in off-TV mode using just the Wii U GamePad.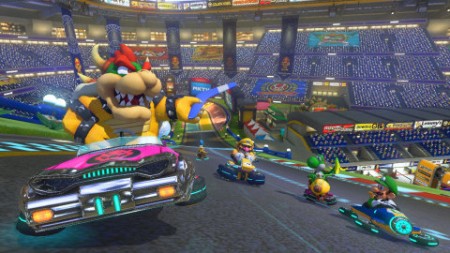 In addition to all that, MK8 will also showcase 12 player online racing and four player local play. So if it's competition you're in the market for, Mario's got you covered pretty nicely. And all of this, it should be noted happens in HD for the first time ever in a Mario Kart title. That in and of itself is a 'feature' as the game looks like it pops off the screen if these shots are any indication. There's tons of new detail in there that we just haven't seen before in the series and, much like Super Mario 3D World, there's a 'wow' factor that easily should make any fan smile.
As to when you 'll finally be able to play this one, look for Mario Kart 8 to be in stores and on the Nintendo eShop for the Wii U on May 30th… which can't come soon enough for me.