Set in the current age, the Spider-Man of 2099 is a spider out of his web as he tries to stem the tide of a future he knows is coming.
Get ready to party like it's 2099, bitheads! Because YOU demanded it – Spider-Man 2099 is back and he's here to stay in SPIDER-MAN 2099 #1! From the splintered fringes of time comes an all-new ongoing series from legendary Spider-Man 2099 creator Peter David (All-New X-Factor, Amazing Spider-Man) and fan-favorite artist Will Sliney (Fearless Defenders, Superior Spider-Man Team-Up)!

Stranded in the present day after the events of the New York Times best-selling Superior Spider-Man series, Miguel O'Hara must come to terms with living in the year 2014. Undercover in the employ of mega-corporation Alchemax, he'll attempt to change the course of his future and prevent the rise of one of his greatest villains!

"Miguel becomes determined to try and transform his grandfather, Tiberius Stone into a decent guy in the hopes that it will wind up informing the raising of Tyler Stone, and perhaps make him a better person," says writer Peter David in an interview with Marvel.com. "In short, he's hoping that he can influence the development of both the present and future of Alchemax."

"He's going to find that's not as easy as he'd hoped," David continued.

"It's going to be a huge year for all things Spider!" added series editor Ellie Pyle "This is your chance to get to know Spider-Man 2099 before the Spider-Man universe gets more crowded, and Peter and Will have prepared quite the introduction!"

Can one man change the future? When the dust settles – will there still be a future worth fighting for? The battle for tomorrow begins this July in SPIDER-MAN 2099 #1!
I'm sure I'm not in the minority here, but Spider-Man 2099 is far and away one of my favorite Marvel characters who had all but vanished into obscurity. When the 2099 line collapsed for good in 1998, a whole bunch of story lines were kind of left out there for years and fan favorite heroes like Spidey 2099 were left out in the cold.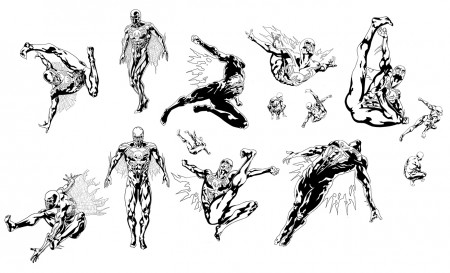 Ever since his appearance in both the Spider-Man: Shattered Dimensions and Edge of Time video games a few years back though, Marvel has been slowly resurrecting the future web-slinger. Throughout, his popularity has never really waned and now all the foreshadowing and recurring appearances have culminated in the character getting stuck in the present-time Marvel U and having his own monthly series.
I'm not sure exactly how writer Peter David is going to reconcile the fact that Miguel is from an alternate future at this point (see the wikipedia entry about the history of the Marvel future for a fun read) and yet still is trying to halt the oncoming mega-corporation that is Alchemax, but it should be a fun read any way you slice it. I know I'm looking forward to seeing what Marvel does with another shot at the main event with the character and I absolutely love the fact that original writer David is back on it to continue on with things as he sees fit.
Make sure you set your time circuits for this coming July, when Spider-Man 2099 swings onto the racks.