The PlayStation company dips their toe into VR with a brand new headset for PlayStation.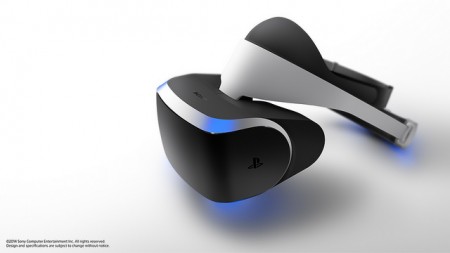 SCE Worldwide Studios president Shu Yoshida took the wraps off of a semi-well kept secret yesterday at the GDC conference in San Francisco. Although rumors had been swirling for some time about Sony developing a virtual reality headset for its PlayStation line of consoles, nothing firm had shown up in any meaningful way, till now that is. As you can see from the promotional image above though, 'Morpheus' (interesting choice) is a very real project.
Said Yoshida in a post on the PlayStation Blog:
I have long dreamed about VR and the possibilities it brings in regards to game development. This new technology will deliver a sense of presence, where you as the player actually feel like you're inside the game and your emotions feel that much more real.
Yoshida hasn't been the only one who's long dreamed of the technology. Sci-fi fans and lovers of tech have wanted a real VR experience out of their entertainment systems since before the dawn of the Holodeck on Star Trek: The Next Generation. Three's something extremely magical about the idea of putting on a pair of goggles (or stepping into a special room) and being 'transported' to another world, so to speak.
Nintendo tried something like it in the 90s with the Virtual Boy, some display companies have attempted head-mounted displays that really only gave a big-screen experience, and most notably the Occulus Rift has wowed audiences with as close to a perfect virtual reality show as anything before. The Rift though, is still very much out there in the ether as it hasn't made landfall at retail as of yet and has been a 'project' for some time. Kind of like a dangling carrot in front of gamers' eyes.
With Project Morpheus, we have a brand new system coming from one of the biggest companies in tech and entertainment, Sony. Whether it'll wow like the Rift or just be a novelty has yet to be seen, but it's already sounding pretty cool, even here in the early goings. Morpheus tracks head-movement as you'd expect and features a 1080p HD display with a 90 degree viewing angle. You can also look for full integration with the Move as well as the DualShock 4, and a new audio system that presents sounds in 3D.
Nothing in terms of pricing or availability to announce as of yet, but we'll let you know as soon as we do. You can read Yoshida's full blog post on the subject here.