Just a little reminder that part two of the second season of Telltale Games' The Walking Dead series is arriving this week.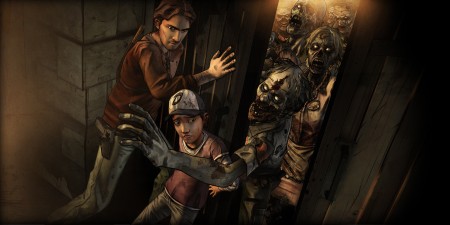 There hasn't been a monstrous amount of press about The Walking Dead from Telltale this year. I don't know if that's because of The Wolf Among Us or that the realization that the series is so good has become common thought at this point or what. Either way, the episodic game is very much still proceeding and is still as eye-catching and thoughtful as it's been since it launched back in 2011 with the first episode of the inaugural season.
"With the premiere of The Walking Dead's second season, players quickly learned the unique challenges of surviving in the zombie apocalypse as our 11 year old heroine thrust back into Robert Kirkman's relentlessly unforgiving world ravaged by the undead," said Dan Connors, Co-Founder and CEO of Telltale Games. "Clem's journey continues as even more problems arise, quickly reminding the player that safety is only temporary, and the bonds of trust may not always be as strong as they seem. This episode also introduces our first true villain for the series, the mysterious 'Carver,' who's bent on tracking down her new group of survivors at all costs."
With an new hero and all-new situations and horrors, The Walking Dead: Season Two – A Telltale Games Series – Episode Two: 'A House Divided' is shaping up to be just as engrossing as the first part of season 2, which arrived around the holidays of last year. If you missed out, get to downloading because as season 2 gets deeper into the episodes, it's only going to get harder to catch up from here.
A House Divided is out now or should be available by the end of the week on just about every platform- PS3, Xbox 360, PS Vita, iOS and PC. You can expect an announcement some time soon on the status of the European PSN edition of the installment as that particular version is still without a date.