Ubisoft's Raving Rabbids were all over the place in the McFarlane Toys booth, though titles like Assassin's Creed and Halo were well represented too. And if you think Todd forgot about The Walking Dead, you've got another thing coming.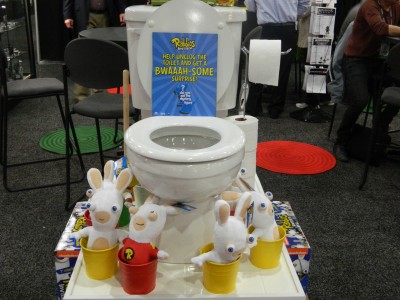 I'm not the biggest of Rabbid fans, though the characters (that spun out of the Rayman series) are pretty funny- especially in those old dev diaries where they ran loose in Ubisoft's HQ. I have no doubt though that fans of the property and youngsters alike will eat up what McFarlane Toys is cooking with a spoon as goes the little creeps.
Rabbids of every type (even those that could be shot out of a plunger-gun0 adorn the booth at Toy Fair in New York this week. If you're into them, you're going to love this stuff as it almost harkens back to the simpler childrens toys of yesteryear; it's something that really works for the brand and that's coming from a non-fan.
If you are like me though and Rabbids aren't your thing, McFarlane also has a heaping helping of awesome, more mature offerings on the way. Led by the always-popular Halo brand (complete with a 'Halo for Xbox One' Chief), the company had new Assassin's Creed figures in the cases that showed off Edward Kenway and a bunch of the supporting cast from 2013's blockbuster ACIV, as we'll as plenty of The Walking Dead for zombie fans who just can't get enough of the show and the comic. McFarlane Toys had both flavors of Dead on display and both are looking great!
Have a gander at the gallery below and see what's on the way this calendar year- I think the Governor's zombie daughter might take the prize as figure of the booth with that fish-tank of ick.