Stunning sculpting and incredible articulation was the name of the game at Bandai's booth at the New York Toy Fair. Top of the heap? Super Mario, a very surprising showing of Aliens and Predator figures, and a shocker with a tease at an Injustice lineup kicking off with the Dark Knight himself.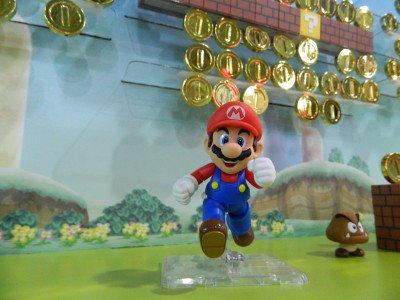 Chancees are, you already know all about Bandai's S.H. Figuarts line and their incredible Eastern comic and cartoon character figures. You probably know all about that amazing Super Mario and the accompanying accessory accessory sets too (that I PRAY will turn into a full-on continuous line), but do you know what else the Figuarts series encompasses? Well, I didn't and to see the absolutely stunning Aliens and Predator toys on display at Toy Fair was an eye-opener.
These bad boys are hyper-articulated with knock-you-over paint apps and more detail than you could shake a chestburster at. After gawking at them for a good long time (and snapping some pics) I moved through the booth a bit more and spotted some super cool Megaman figures. Just as detailed and expertly crafted as the Aliens and Preds, the MEgaman toys nonetheless require a more cartoonish look and simpler design overall than anything that's meant to be as realistic as possible. And these hit the mark on all of the above.
I used to be a big fan of the Megaman snap-together figures from the late '90s/early 2000's, but these are very bit as great as those- and then some. Also on display was some Power Rangers stuff that actually made the primary-colored heroes look good. That's no small feat, but both the Rangers themselves and the original Megazord were looking more than worthy to add to any super-hero themed collection.
And finally, on one wall of the booth and totally by his lonesome, stood the Batman. Sculpted as he appears in NetherRealm and Warner Bros hit fighting game Injustice, the Dark Knight comes complete with a batarang and some of the best sculpting/poseability (seeing a pattern?) I've ever seen. This is an excellent looking toy and I'm seriously hoping that we see more in the weeks to come from not only this figure (as a paint master perhaps?) but also the rest of the game's cast.