Titanfall is seemingly everywhere on the show floor as Square Enix has an amazing looking Titan on display along with a ton of other new wallet-busting goodies in their fantastic Play Arts Kai line of collector figures.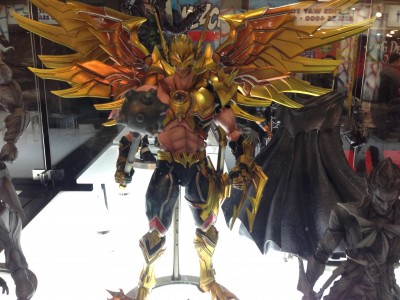 I'm a sucker for Play Arts Kai stuff. Flat out. I currently have a bunch of their Halo and DC characters and I can't get enough of them. I know they can be something of an acquired taste for some, but the level of detailing and the poseability are a combination I can't pass up on- especially for some of the new stuff  currently on display at Toy Fair.
Titanfall is here as a Titan/Pilot combo and looks terrific even in its unpainted prototype form. Its definitely something new for the company too, which is a great thing. Also great are the next releases in the DC Comics variant series with Hawkman, a new Joker and Harley, and Darkseid all arriving. The Batman: Arkham Origins figures should definitely make some fans smile too as that Batman might be the best one Square Enix has done thus far. Metal Gear fans should also be quite happy with the newest Snake figure and both new RoboCop releases are aimed at fans of the new and the original films. Something for everyone, pretty much.
Cool stuff all-around, but no dates yet are available on really any of this stuff. Oh, and yes, that is Rorschach from Watchmen you see in the gallery below. Bit of a shocker to see him pop up, a welcome shocker, but still.