Funko has gone completely insane with new releases for 2014 including a ton of the new retro-styled Reaction figures.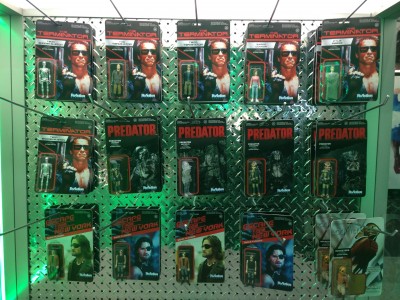 Firefly, The Terminator, Predator, Alien… some of the biggest licenses you can think of are now securely at Funko and about to see product released at retail as a part of the new ReAction line. This is some seriously awesome stuff, especially if you're old enough to remember the original Star Wars figures from Kenner in the '80s.
An entire generation of sci-fi fans and action figure collectors were raised on those toys and ReAction figures pay homage to them in the best possible ways. These are FUN plain and simple. With classic articulation and paint apps, the Reaction Figure line is retro toys at their absolute best. I honestly can't tell you how excited I am about this line. I know at first glance you might just see limited pose ability and simple detailing, but that's kind of the point. And once you get it, you get it.
These guys are meant to be retro and they are gloriously every bit of the word. Now don't get me wrong, I like my super-poseable action figures and insane levels of detail too, but there's something magical about the Reaction line that I haven't felt about a toy line in a long time. They're just so cool and I'm dying to add a whole bunch of them to my desktop (I might actually need a bigger desk…).
The IP's that Funko (who you might know for their mega-popular POP vinyl line and way more serious Game of Thrones figures) got for this line are staggering too. In addition to the names I rattled off above, you can add Back to the Future, Escape from New York, Nightmare Before Christmas, The Goonies, Buffy the Vampire Slayer, The Rocketeer (!) and more. Simply put, this company rocks and I can't wait till these toys start hitting retail.
While there's no firm date as of yet really, things should start to arrive on the pegs by May. I'm told that's when the Firefly series should hit and most of the figures in the extended ReAction line should be arriving throughout 2014 after that date.