Play your favourite and get free DLC.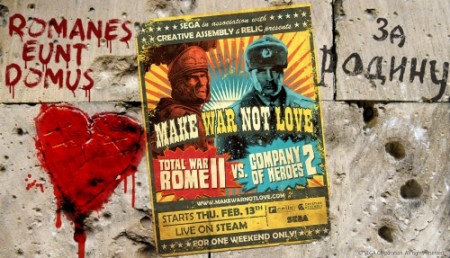 If you're a fan of Company of Heroes 2 or Total War: Rome II, then you could get some free DLC on Steam for your game by participating in the 'Make War, Not Love' event on Steam.
From now until 6pm GMT on Monday 17th February, for every match on either game you win, that game scores points.  Whichever game gets more points at the end of the weekend wins.  You can keep track of the battle at the Make War Not Love website.  If Total War: Rome II wins, then the 'Beasts of War' unit pack will be free to download for five days.  If Company of Heroes 2 wins, then two multiplayer commanders will be available for free download for five days.
If this sounds interesting to you, then get in there and play your game.  And may the best game win.