Mark Waid and Mark Bagley team-up to bring HULK #1 to fans this April.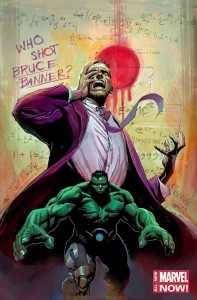 Forget what you know about the Indestructible Hulk, because HULK's initial story arc will be all about the very 'destructible' Bruce Banner.
"As our series opens, Banner's at death's door", says Waid. "…having learned something about himself that cuts him to the quick and calls into question everything he's been doing for what he believes is the public good. And things don't improve for him from there."

"You'll see Bruce Banner in a whole new light," Waid continued.

The victim of a near fatal gunshot wound – Bruce Banner lay inches from death. Did his unknown attacker want the Hulk dead? Or Banner? As Banner clings to life, he'll realize he's not quite as indestructible as he once thought. If he survives this, his darkest hour one thing is certain – he won't ever be the same!

"With a list of enemies as long as the Hulk's, almost anyone could be behind Banner's assassination attempt," says Senior Editor Mark Paniccia. "But the real mysteries are yet to be revealed. Mark Waid has mind-blowing revelations in store for the readers that will have them talking for years."

"The answers will have Banner going down roads you'd never expect and wait till you see what's in store for Hulk, continued Paniccia. "And just how does the Stark family play into all of this? Ha! Fans are going to dig!"

How will the Green Goliath solve the mystery of their enigmatic attacker. And the answers will shock Banner to his very core! Don't miss a single moment of this bombastic new series when HULK #1 smashes its way into comic shops this April!
Why does it always seem like Iron Man and the Hulk are intertwined…

Anyway, I'm excited for this one for a couple of reasons. Firstly, Waid and Bagley are two of my personal favorites, so I'm pretty pumped to see them in action and taking on the Hulk together. Then I've always been a fan of the Bruce Banner/Hulk interplay and how different they both are, so it's great to see that getting played up again as well. And though I do have to admit that I liked the 'professor' Hulk from the '90s quite a bit too (and we barely ever saw Banner in those books) it's always been the duality between the Doctor and the monster that's a good deal of what's most interesting about the character(s).
Also, for some reason I'm just happy to see that the comic is simply going to be titled 'HULK'. No 'Indestructible', no 'all-new'… nothing. Just HULK. I like that and this is one that's definitely headed for the pull list at my LCS this April when it hits the stands from Marvel Comics. Hulk smash? More than likely.