Steelseries goes to the frozen north for their latest headset, but the new Siberia Elite will leave you anything but cold.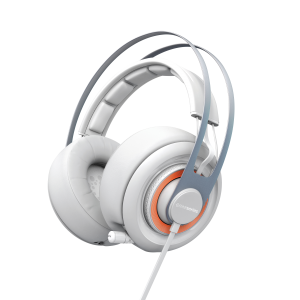 I have to admit, while I've used Steelseries' products in the past, I'm almost completely unfamiliar with their headset line. Iy's not that I had a particularly 'bad' image of the products, it's kind of just that I never really considered them a frontrunner in that division of computer hardware and accessories. There are just so many headsets on the market now after all and it can be difficult to look past those big names that sit at the front of all of them.
Not that Steelseries isn't a big name either. Their mice and keyboards have always held a place in my heart (and in my computer's USB slots) over the years. It's just that when you're talking headsets, I never really thought of the brand. Well, looking back, that might have been just the teeniest of mistakes on my end- and that's because the Steelseries Siberia Elite is just all kinds of awesome.
To be completely honest (and that's kind of our thing here at BG), the looks of a headset are what really draw me first. Sure the thing actually has to perform if I'm going to plunk down cash on it, but it kind of has to look cool in all the right ways for me to get pulled over to it in the store aisle. That actually goes for any piece of hardware, but headsets in particular for some reason. Fortunately, the Siberia Elite has good looks in spades.
Crafted either in all-white or all-black, the Siberia Elite is a striking piece of technology- especially in white. With no visible external controls whatsoever, the Siberia's have a pair of dials embedded into the inner rims of the outside ear cups. The right one switches on and off the built-in mic (more on the in a minute) while the left controls the sound. It's a elegant solution to a necessary control feature that's usually left to some kind of chorded control panel and is super-cool.
The headband is a neat frosted-aluminum , but that's not the part that'll actually be sitting on your noggin as the Siberia Elite also has a soft, memory-foam-like padded strap that sits just under the headband. This soft band is tethered to the very ends of the headband by cords that stretch out when you place the headset on your head. This ensures a custom fit for the Siberia Elite and it feel every bit that. I've tried out a lot of headsets over the years and this is easily one of the most comfy. Adding to that are the ear cups themselves.
Made with the same memory foam as the suspension headband, the cups are pure pillowy goodness- and for gamers wearing them for a few hours at a time, they're a godsend. Steelseries calls them 'ear pillows' and that's a description that's completely on the mark. I don't think the pillow that I actually sleep on is this comfortable and as far as headsets go, there's no comparison. The extra large cups sit outside of your ears, completely enveloping them, and block out a surprising amount of ambient noise that might otherwise annoy and ruin your session and, being that they're memory foam, they conform to your head nicely and feel oh-so comfortable. It's not that you won't notice the headset is on mind you, because it's definitely got some heft to it, but it's just so comfortable that you probably won't care.
Getting back to the mic, it's hidden neatly inside of the left cup. Instead of having a mic that simply swings up to make you loo like a tank-commander when not in use, or having one that is detachable (as is the norm at this point), the Siberia Elite's mic is coiled inside of the actual ear cup. To get at it, you pull the end (which sits at the opening, looking like a little dial of some kind) and presto- you've got a bendable mic that works great.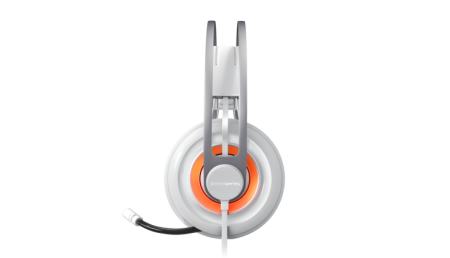 The Siberia Elite also comes with  plethora of light-up color options if you're connected to a computer of some kind and can use the control suite of software. Through this, you can set a number of really neat color changing effects that illuminate the headset's ear pieces. But while that's really cool looking, the downloadable software does a heck of a lot more than just control the colors. It can also set different sound preferences and save profiles for the more audito-picky and enthusiastic amongst us. On that end, I'm happy to say that it's trouble-free and is unbelievably easy to use.
Now that's all great for the other people in the room, who are looking at you and your neat-o headphones, but how do they perform for the actual wearer. The answer there is that they sound just as great as they look. The Siberia Elites come complete with a USB sound card that performs beautifully giving the headset a deep and rich sound quality that I really liked. For 'signal processing' the Siberia Elite supports Dolby ProLogic Iix, which gives the user a great 7.1 (up to) sound experience. I tried it out with a few FPS' and was thrilled with the results as the depth and quality of the sound produced was excellent.
The siberia Elite actually ships with a few sound options though and you don't have to use the sound card if you're dealing with a machine that doesn't support it. I used it with my iPad for instance and both music and games sounded great. Now obviously, it's not the same as with the USB 'card' running interference for me, but the headset is really well made and that shines through- even if you don't have all the bells and whistles set up.
The Siberia Elite also comes with a standard stereo adaptor by the way, which is actually how you can use it with a device like the iPad/iPhone. The interesting thing about that is that you can also use it with a number of devices that aren't advertised as being compatible. I used mine with my 3DS, PS Vita and Wii U and PS4 thanks to both of the latter's controller sound jacks- pretty cool.
Final Thoughts
Versatile, beautiful to look at, comfortable and with great sound quality; the Steelseries Siberia Elite is a headset that's just about as great as any gamer would want.
Yes, I would have liked it if the Elite was a wireless headset or if it had some kind of bluetooth connection or surround-sound option for consoles.. It would have been awesome since even more gaming devices would have been comparable with this great piece of audio equipment. Still though, there's really no complaining to be done here.
The Siberia Elite is an excellent headset if you're a PC gamer, a solid headset if you're a mobile gamer and even a good one if you're a Wii U or PS4 gamer. It's great stuff all around and well worth a look if you're seeking some great sound and top-notch private listening from your PC-gaming rig.