A six pack of skins featuring five alternate looks for the Dark Knight and one for Robin has hit Batman: Arkham Origins.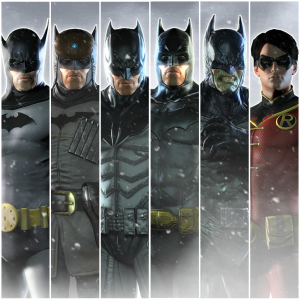 As you can see, if you're a Batman fan there's a lot to like in this pack. Not only do you get the Dark Knight's New 52 duds, but you also get the suit featured in the Batman: Noel hardcover graphic novel that was released a while back. Why is that such a big deal? Because, dear reader, it's been heavily rumored that that's the costume that we'll see featured in the Batman/Superman movie coming up in 2015.
Without giving anything away, director and famous comic book guy Kevin Smith (who has actually seen actor Ben Affleck in the new movie costume) said the Batman/Superman suit is a bat-suit that's never been seen on film before. He also added that it looked great and he was really happy with it. Smith is an avid comic junkie and Bat-fan, so if he's excited about it, chances are it's something that could be very cool.
We'll have to see about the film, but the skin pack is available right now to add onto your PS3, Xbox 360, Wii U or PC copy of the game. It should be noted that some of the suits that are in the pack can be unlocked by playing through Origins on console or via the mobile game, but this is a neat way to get 'em all, right off the bat- pardon the pun.
The pack will cost you $4.99 USD on the Xbox 360, PS3 and PC and $3.99 on the Wii U.