If you haven't seen the new film yet, you might twang to not click through the break to see Diamond Select Toys' Jane Foster figure in all her glory.
Don't say we didn't warn you, but apparently (I haven't seen the flick yet) there's a part in the movie where Jane gets possessed by the goddess Aether. Did someone say 'Dark Jane'?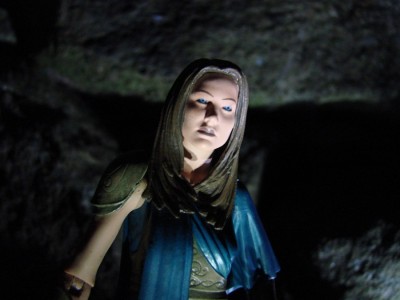 Both versions of Jane are modeled after Natalie Portman (natch') and the heads are interchangeable- which means this isn't a variant and you won't have to shell out for two of the same figure if you want both. Just do the head swap when you're feeling all possessed-y and away you go. In addition to the alt-look, Jane comes with a Dark Elf weapon and a rocky display base. The base interlocks with Thor's too, so you can display the couple properly on your shelf/desktop.
The Thor figure seen in the glamor shots is available at comic and specialty stores right now and Jane will be up for sale in "early December". The second installment of Marvel Studios' 'Phase 2 of the comic giant's Cinematic Universe, Thor: The Dark World is in theaters now.