The Atlas mech-suit from Titanfall is one of the coolest new bots in gaming. Have a look at the inner workings of the beast with the awesome new schematic released by EA today.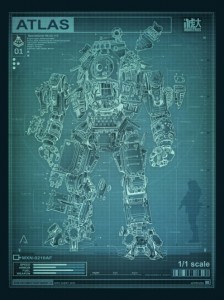 I'm a sucker for this kind of stuff right off the bat. I mean, I used to have copious amounts of sci-fi cross-section and starships up on my wall when I was a kid… and I mean my real wall by the way, no Facebook back then.
This schematic of the Atlas though, will be a little tougher to come by than picking up a diagram of the USS Enterprise at a comic convention though. You can only nab one of these bad-boys for yourself by picking up the Collector's Edition of Titanfall for the Xbox 360/One or PC.
The poster itself measures at 27" x 36" and "highlights specific mechanical details around the Atlas class". Wall worthy? Yep. Frame worthy? Yep.
The game drops (or 'Falls') on March 11th, 2014 across the three platforms and on the 13th in Europe. You can lock down your poster with a pre-order of the Titanfall Collector's Edition, here.