The Marvel U builds towards Inhumanity as Bruce Banner's intellect has to take the fore when Hulk encounters a problem that even he can't smash.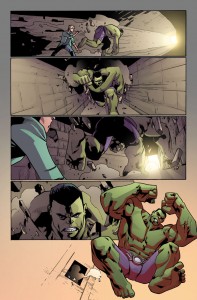 Hulk smashes, and Banner builds. But what happens when Hulk can't smash? Marvel is proud to present your first look at Indestructible Hulk 16 – from superstar writer Mark Waid and red-hot artist Clay Mann! Earth's scientists have a deadly problem they can't solve, and with time running out they've turned to Bruce Banner for help! Now, with a problem Hulk can't smash, it's up to Banner's super intellect to help build….an extremely powerful bomb?! Plus: which of Banner's assistants will make it out of this one alive? The seeds of Inhumanity are sown this November in the explosive Indestructible Hulk #16!
Bruce Banner building bombs does't sound like a really great idea. Hulk's human side hasn't been the stablest of people over the last few years and it's not like he has a really great history with things that go 'boom' either. It's interesting to see Hulk have to take the back burner for a while though.
One of my favorite things about the character(s) was always that he was the mind of Banner and the muscle of Hulk- but never at the same time. I'm happy to see Marvel playing that up again.
Indestructible Hulk #16 smashes into retail and onto the Marvel App on November 27th.