The newest gaming translation of the popular tabletop game is available now.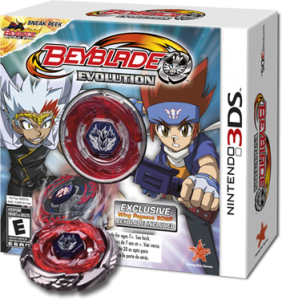 Developed to take advantage of the unique capabilities of the Nintendo 3DS, BEYBLADE: Evolution lets players launch their in-game BEYBLADE, using the gyro and motion sensors and manipulating the viewing angle with the AR camera for precise control and adjustment. Players engage in real-time multiplayer battles or follow the Story Mode campaign unlocking new parts and information to fine-tune their tops in the Bey Factory. Battle your friends in the faithfully recreated virtual arenas, or in one of the brand new arenas. BEYBLADE: Evolution is also compatible with the new Nintendo 2DS handheld system.
Beyblade Evolution is available in two flavors, the standard edition and the Collector's Edition. It's the CE that fans are going to want though as it contains a little something not seen outside of Japan. Packed right into the box with the game itself is a special 'battle top' – a "six-piece BEYBLADE Wing Pegasus 90WF Battle Top" to be precise. Bottom line, it's hard to get ahold of and you get one in every Collector's Edition of the game.
With over 200 million toys sold globally and the newest cartoon Beyblade: Shogun Steel, doing very well in the ratings department, Beyblade just might be the quietest phenomenon on Earth. You don't hear terribly much about it as a franchise, but it's stunningly popular as you can tell from those numbers.
Catch Beyblade: Evolution in stores right now for the 3DS/2DS for the price of $29.99 USD for the standard and $39.99 for the Collector's.