The Bros are warping into a special Wii U Deluxe Set just in time for the Holidays.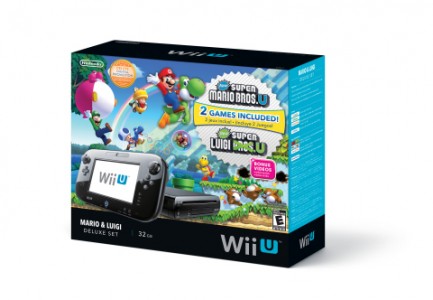 With the Wii U console on a little bit of a roll as of late (numbers are up, Holiday games are coming), Nintendo has announced that a special Super Mario bundle pack is on the way to retailers. Of course, the games giant hopes that it's also on the way to your house in a neatly wrapped little box.
Included in the box set will be a Wii U Deluxe Set and a special game disc (that's probably on the way to being a collector's item already) that contains both New Super Mario Bros U and New Super Luigi U. The new Deluxe Set isn't a time-centric thing either as it's actually replacing the now standard Deluxe Set that includes Nintendo Land as the pack-in.
"Mario and Luigi are two of the biggest heroes in video games," said Scott Moffitt, Nintendo of America's executive vice president of Sales & Marketing. "This new Wii U configuration gives people instant access to not one, but two of the most well-received Wii U games. It's another example of the tremendous value and variety that Nintendo is offering consumers this holiday season."
Nintendo Land isn't getting discontinued though, so if you want to pick it up and still haven't, you still can. It'll be available for $29.99 USD going forward.
Oh, and just in case you don't like Mario (really?!) or prefer The Legend of Zelda, the Wind Waker HD pack is also still available. That set contains a specially-branded Wii U 'Zelda-themed' console as well as a digital download code for the Hyrule Historia book (a timeline and art book for the series) and the actual Wind Waker remake- The Legend of Zelda: Wind Waker HD.
Both the Zelda and the Mario themed sets will cost you $299.99 USD. Expect to see the Super Mario Super-set on shelves on November 1st.