Fans looking for some new toys from The Hobbit: Desolation of Smaug will have some very cool stuff to look forward to with The Bridge Direct's new series. No shots of the big scaly guy yet, but we've got elves, dwarves and wizards aplenty. Updated: Now with even more pics.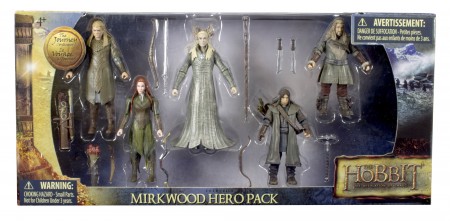 The Hobbit: The Desolation of Smaug continues the adventure of Bilbo Baggins as he journeys with the Wizard Gandalf and 13 Dwarves, led by Thorin Oakenshield, on an epic quest to reclaim the lost Dwarf Kingdom of Erebor, and the terrifying presence that lays in wait deep inside. But first they will have to get through the treacherous Mirkwood Forest, and face Thranduil, King to a race of dangerous and unpredictable Woodland Elves. Escaping the Elf-king, the Company arrive at the shores of Lake-town which borders a waste-land known as the Desolation of Smaug; a land destroyed by a giant fire-breathing Dragon many years ago. As they journey east, under siege from Azog and his Orcs, they must also stay beyond the reach of the mysterious Necromancer that has risen at Dol Guldur.
Fans of The Bridge Direct's previous line of Hobbit-themed toys from the first film in the new trilogy know the drill here. The toy-maker has both 6″ and 3.75″ figure series on the slate with the promise of more to come, should the initial offerings sell well. I can't imagine they won't as Bridge has made some great stuff and it looks like the Desolation of Smaug figures will be of the same ilk.
The smaller figure line is great in and of itself, but I have to say I'm partial to the 6″ assortments since they fit in so beautifully with the older Lord of the Rings action figures from the first trilogy. Cool stuff all around.
Here's a rundown on what you can expect to see: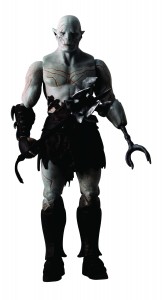 6" SCALE COLLECTOR FIGURES – SRP $14.99 each

Sure to become coveted pieces of memorabilia, these 6″ scale collector figures feature intricate and authentic detail. Each figure contains up to 12 points of articulation and replicates the facial features, clothing, weapons and accessories of each character as seen in The Hobbit: The Desolation of Smaug. Select from Azog (with Battle Axe accessory), Radagast (with Staff and Hat accessories) and Legolas (with two Swords, a Bow and a quiver full of arrows).

3.75" SCALE BOX SET: MIRKWOOD HERO PACK – SRP $29.99

Join Thrandruil, Legolas, Tauriel, Kili and Fili from The Hobbit: The Desolation of Smaug with this special box set for the avid collector. Each 3.75" scale figure features up to 12 points of articulation and replicates the facial features and clothing of the character in painstaking detail. Also includes 2-3 weapons/accessories for each figure for posing and battling action.