Activision's monster shooter franchise comes to the world of building toys from MegaBloks.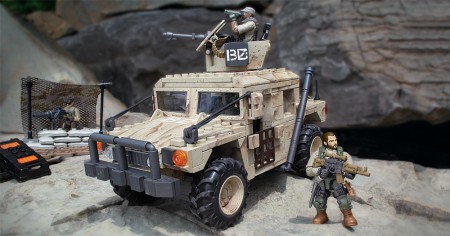 I honestly never would have thought Call of Duty would have made a good basis for a building toy series. To me, it just didn't have 'oomph' to hold a whole series. And yet, here it is- and it's pretty awesome. A full blown 'Collector's Series' in the vein of MegaBloks' other gaming properties like Halo, Skylanders and World of Warcraft is now on store shelves (spotted at Toys R Us) with more on the way.
The company showed off sets this past weekend at the NYCC in New York City and had some very impressive stuff on display. Basically, what you have here is a really neat building set series that encompasses modern military settings and vehicles/soldiers in much the same way that the CoD video game series does. While these are CoD-branded, they're also just really cool military building sets. So even if you're not all that hot on Call of Duty, these still might very much grab your interest.
MegaBloks has sets ranging from troop sets ($14.99 USD – and perfect for army builders) to full playsets like the Dome Battleground ($49.99 USD) and Light Armor Firebase ($39.99 USD). I was really impressed by the mini-figures for the series by the way, which are way more detailed and posable than the ones found in the company's long running Halo sets. They also hold their weaponry way better than Halo's marines (at least, they did in the display) thanks to some great articulation (for a mini-fig anyway).
Also shown at the Con, but not included here was a seriously impressive Zombies setup that had a ton of undead crawling all over an abandoned structure. I'm not too sure just how deep MegaBloks is going to get into the whole CoD Zombies phenomenon or not, but the playset they had on display definitely caught my eye. We'll bring you some shots on that as soon as we can, but in the meantime take a peek at the pics below and see what you think of these bad boys. Personally I was really impressed by 'em.