So if you've been playing any Grand Theft Auto Online since the game unlocked the other day, you might have been having some, shall we say, technical issues? Well, Rockstar want to give you a little something for your trouble.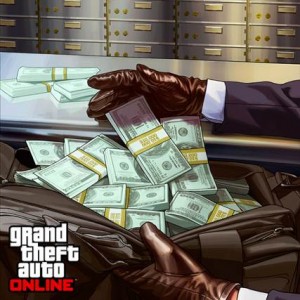 First things first- Rockstar is saying that the GTAO experience should be way smoother now than it was at launch. They've addressed a bunch of the problems that were popping up and any technical issues that were impeding fans from logging in and enjoying the game, should be on the way out.
Just because of the challenges gamers were having though, Rockstar is giving a little something back in the form of some in game currency- like, a half-million GTA$. They're calling it the 'Stimulus Package' and hopefully stimulating fans to keep on keeping on in the world of Grand Theft Auto V is exactly what's it's gonna do.
Beginning as early as next week, players can expect to see the cash delivered in two installments into their in game bank accounts.
In order to keep the current worldwide in-game economy balanced, we will be providing this GTA$ to players via two deposits of $250,000. We will announce specific dates as soon as possible, but are currently hoping to be able to make the first deposit by the end of next week (after we've confirmed that issues causing game progress loss have been fixed) with the second installment to happen by the end of the month. For players who experienced cloud server errors, connection issues, and lost game progress and characters in these first days of GTA Online, we hope this GTA$ helps to facilitate a fresh start or makes your continued life in Los Santos and Blaine County extra sweet.
As far as eligibility, it's pretty simple- you have to have played GTAO sometime in October (which isn't over, so go log in if you haven't yet) and install the forthcoming patch (which repairs a lot of the problems in the game and allows for the virtual cash dump). And that's it, do those two things and you'll automatically receive you dough.
Rockstar will announce the dates for the drops via their Rockstar Games Newswire service, so stay tuned for more. And in the meantime, watch your back out there, Los Santos can be a rough place.