At New York Comic Con this weekend? Head to the Marvel booth for your chance to actually become the face of the Share Your Universe initiative.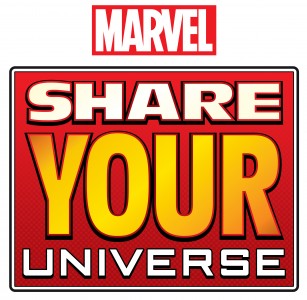 Share Your Universe is designed to get non-fans into the game and reading Marvel comics, watching the TV presentations and checking out the movies (though they probably don't need too much help in that category). How's this done? Through you- the Marvel fan and having you Share Your Universe.
"We want to hear from you, the fans, about how you Share Your Universe with your loved ones and give you the opportunity to bring your unique story to life as the face of this campaign" said Dan Buckley, Publisher & President of the Print, Animation & Digital Divisions, Marvel Worldwide, Inc. "Share Your Universe is all about helping usher in a new generation of fans who can learn the iconic lessons of Power, Responsibility and Heroism while also getting a chance to have a great time with the most important people in their lives. Most of all, we want parents—or anyone with young fans in their lives—to Share Your Universe at New York Comic Con with our many panels; free all ages giveaways and events at the Marvel booth; exclusive signing events; and chance to connect with the timeless Super Heroes that have inspired us all."
So Marvel is looking for a 'face' and here's how you can be that guy or gal- head over to the Marvel Comics booth (#1354) at the Javits Convention Center in Manhattan anytime today or the rest of the weekend. From there you'll load yourself up into the special video kiosk at the booth and record a short video message and fill out an entry form. And that's it, you're officially entered to have your likeness as the face of Share Your Universe.
If you win, you'll get the opportunity to record six more videos that'll be featured on Marvel.com, get an HD flip cam and be immortalized in print by being drawn into an all-ages Marvel Comic. As with all things Comic Con, get there early because there's going to be plenty of fans lining up for this one.
NYCC runs through this Sunday, October 13th.