The creator of the revered adventure game series has officially licensed the rights from Activision and is hard at work on a remake.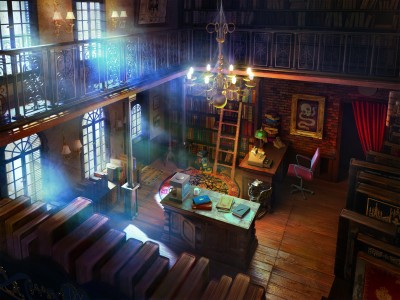 Gabriel Knight (the first game in the series) was last seen in 1993. Let that sink in for a second- that's 20 years ago. That was when writer Jane Jensen created the character of Gabe and his world. She actually worked on the series right up until she departed from Sierra Online in the year 1999, which was the effective end of Gabriel Knight. Till now of course.
In 1993, a rash of ritual voodoo murders took place in the swamps and back alleys of New Orleans. With local police baffled, only one man was equipped to solve the case: Gabriel Knight, owner of a French Quarter bookstore, struggling novelist, and an unwitting descendent in a long line of shadow-hunting Schattenjägers. Armed with little more than a sacred dagger and talisman, his N'awlins drawl, and his own irresistible brand of charm, Gabriel Knight quickly became a gaming sensation when Sierra On-Line released his first adventure, Gabriel Knight: Sins of the Fathers®, in December 1993.
Now two decades after the fact, Jensen and Pinkerton Road (her studio) are crafting Gabriel Knight: Sins of the Fathers 20th anniversary edition. The remake will feature the same dark storyline from the original game as well as the characters that fans have grown to love over the years, but it'll do it with a sharp new coat of paint and a remastered soundtrack featuring the work of Robert Holmes- the original conductor from the classic 1993 Knight.
Already working on the title under a placeholder name for about a year, making the game an authentic retelling of the original story was important to Jensen. Enhancing it was even more so, as the technology of the day couldn't really tell the tale like it can be told now.
"I'm thrilled to be back at work on Gabriel Knight and to bring this classic game to a new generation of players," says Jensen. "It's a designer's dream to be able to enhance the game and bring in more New Orleans flavor than technical limitations allowed us to in 1993. It's going to look and feel like a brand new title. But never fear, 100% of the original Gabriel Knight: Sins of the Fathers is here. I hope both existing fans and new players will love it."
Look for Gabriel Knight: Sins of the Fathers 20th Anniversary Edition to arrive for PC some time in 2014. Pinkerton Road's all-new adventure title will be coming much sooner than that though for those looking for a spooky point and click story as Moebius will be arriving on iOS, Mac and PC before 2013 is out.
In the meantime though, check out the comparison shots below to see just how far Gabriel Knight has come.