Not only can you play Ubisoft's latest Creed at the Expo this coming weekend, but you can get a special Assassin's Creed playing card that just might ask more questions than it answers.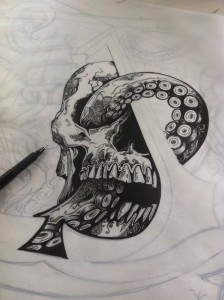 Actually, you can play not just one, but three different demos that Ubisoft is bringing to the show to get a real sense of how the upcoming blockbuster is to be played. You'll find one at the Ubi booth (duh), one at the NVIDIA stand and the last one at Sony's installation.
Although each demo will be different (and all will be worth playing if you're an AC super-fan), there will only be one card to be had- but it's a beaut. Penciled by London-based artist Vic Lee, the playing card depicts a skull being encircled by a tentacle from the briny deep. The Ace-of-Spades' will be given out to show-goers by the booth staff after they've played the demos. And in true Assassin's Creed fashion, this isn't just a card that you'll be getting, it's a riddle and… a key?
This is only the beginning of your Assassin's Creed IV: Black Flag journey. The Ace of Spades is the key, the question is… to what?
If you pre-order the game at the GAME stand at the Expo, you're actually in for even more of Lee's artwork as you'll be walking out of the show with an exclusive, limited edition art print of Lee's work for free. Want even more of Lee's art? Click here and head to his official site to see and buy some of his incredibly cool artwork.