The publisher will be printing Superman's WWII-era Sunday newspaper comic strips in a collector's edition book.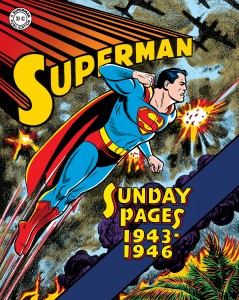 So this is pretty awesome if you're into Superman or just American history. We all know (or at least, we should) the role that comic books played in the second great war. Superheroes of all kinds and from pretty much every publisher you could think of often found themselves embroiled in the trenches of Europe or on the Eastern Front. Using these heroes in comics that reflected the goings on of the war not only was a great way to make the books feel current in crazy times, but also were almost universally loved by the actual soldiers out in the field.
The Man of Steel was, of course, a part of that with a number of adventures that ran through Sunday newspaper strips. Now publisher IDW has secured the rights to these comics for publication in a tome called Superman: Golden Age Sundays. Collecting a staggeringly long run of 170 'Sundays', the book runs from May 9, 1943 through August 4, 1946 and features the art of stars like Wayne Boring and Jack Burnley.
The stories include the complete "Superman's Service to Servicemen" series, which ran from late Summer of 1943 until a few months after the Second World War ended. In these human interest tales, Superman responds to requests from men and women of the armed services, as well as their family members back home. In supporting troop morale, Superman travels from the Mediterranean theatre to the bleak Aleutian Islands to the steamy South Pacific. He helps a wounded Army Air Corps pilot return home to witness the birth of his twins; solves numerous romantic misunderstandings; checks up on mothers for their worried sons overseas…while simultaneously stopping enemy torpedoes, bombs, and bullets!
Superman: Golden Age Sundays is actually the first in a set of three books presented by IDW and the Library of American Comics in "partnership with DC Comics". The second book will present Superman as he appeared in the 1950's 'Atomic Age' and then wrap up with the 60's and the Silver Age of comics.
Each book will feature an intro by comics' great Mark Waid and all-new cover art by Peter Poplaski that'll pay homage to each of the three different era's. Superman has had a long history in the comics world and has seen a ton of reinvention over the years. IDW's presentations are a window into just how the character evolved into who and what he is today. As someone who's only had glancing looks at the Golden Age Last Son of Krypton, this is one book that I'm going to keep an eye out for.
There's no release date as of yet for Superman: Golden Age Sundays, but we'll keep you up to date on further developments.