As the game continues to dominate in its Kickstarter campaign, Mighty No. 9 has officially hit the mark for console versions.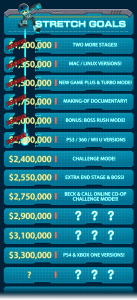 Coming straight from the mind of Mega Man creator Keiji Inafune, Might No. 9 was an instant hit on the crowd-funding platform. The game has all the hallmarks of the classic Capcom series that it's intended to spiritually succeed and all the creativity and charm that Inafune is known for.
Mighty No. 9 is an evolution of the classic Japanese side-scrolling action games that project leader Keiji Inafune built his reputation on as the former head of R&D at Capcom. The game achieved its initial funding goal of $900,000 in less than 40 hours during Labor Day weekend, and the momentum hasn't let up since. Thanks to an incredibly active group of supporters, project funding has continued to smash through stretch goals one after the other, including extra levels, new game modes, Mac and Linux versions, and a series of making-of documentary episodes from 2 Player Productions.
With 13 days left in the campaign, Comcept's baby is currently sitting at $2,282,182 USD, which is significantly more that its original $900,000 goal. It's so much more in fact, that the company has announced that the game can now be ported onto the Xbox 360, PS3 and Wii U in addition to the already announced PC version- think Mega Man fans want this one?
The next 'level' of funding will see the game include a challenge mode and there's little doubt that funding levels will get it there. Beyond that, there's an additional stage and boss character, some mystery additions that have yet to be detailed and finally- an Xbox One and PS4 version of the game. That last goal is only available at $3.3 million USD. That's a tall order, but it's very much feasible that we could see it reached the way this Kickstarter has gone thus far.
If you'd like to contribute, click here and help No. 9 make it to the next generation. Either way though, Inafune's baby has gotten an almost magical amount of support from fans and will indeed be heading to consoles.