The newest addition to statue maker Koto's stable is mean, green and ready to smash into your collection.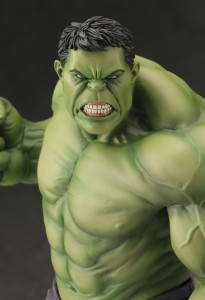 Marvel Comics' jade giant, the Incredible Hulk is the first of the publisher's characters to appear in the ArtFX+ line of statues from Koto. The new series will focus on Marvel's stable as they appear post-Marvel NOW! relaunch. In the case of the Hulk though, that's pretty much the same as he's always looked.
The iconic character is as massive as you'd expect and is stylin' in his perfect for any occasion ripped up purple pants courtesy of sculptor Adi Granov.
Bruce Banner was a scientist studying the effects of gamma radiation when he was caught in an explosion. Rather than destroy him the energies transformed him into the massive green-skinned Hulk! The Avenger stands in a classic comic book pose, angled to the side and leaning forward with his arms outstretched. The Hulk has his leading hand open as though to taunt his enemies, though his right hand behind him is balled into a fist to deliver a mighty blow! The Hulk is fantastically detailed with intricate musculature down to his sinews and veins, and the harsh grimace on his face shows off the rage he can't keep bottled up in battle. Banner's alter ego wears his traditional tattered purple pants (no Hulk would be complete without them), and his skin is expertly painted with varying shades of green.
ArtFX+ is scaled to a 1/10th level, so Hulk here stands in at just a shade under 10″. He also includes a magnetic display base, which is easily removable so you can display him either on or off of it. Hulk will also be joined by the rest of the Avengers as Captain America, Iron Man, Thor, Hawkeye and the Black Widow will all be making the junp into the line as well.
The Incredible Hulk will be first up though (are you gonna tell him no?) and should be on shelves by March 2014. He'll cost you $64.00 USD.