The retail boxed edition of the Luigi-centric New Super Mario Bros U spinoff is headed to stores this Sunday.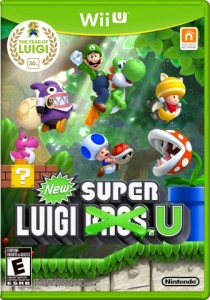 With the downloadable version available on the Wii U's eShop for a while already, you might have scratched that Luigi itch and picked up New Super Luigi U for yourself by now. Just in case you haven't though, or in case you're a Super Mario Super-Fan and just flat out need a boxed copy in your collection, the very green boxed edition of New Super Luigi U is available in stores as of this coming Sunday, August 25th.
Believe it or not, New Super Luigi U is the first solo game ever for the other Mario brother. For a first effort, it's a pretty impressive game with over 80 stages "revamped" from New Super Mario Bros U and a whole mess of new levels to play around in too.
New Super Luigi U also adds in a new playable character (since Mario isn't exactly 'welcome' in his Bro's game) in the form of the Nabbit. The chunky little thief rounds out a four, or five if you use a GamePad, player experience.
The Year of Luigi rolls on as New Super Luigi U will be available this Sunday the 25th for the Nintendo Wii U at retail stores everywhere.