Activision's toys-to-life property Skylanders is popular. Very, very popular.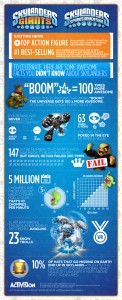 How does the tune of 1.5 billion dollars sound? That's the total combined sales revenue that Skylanders and its sequel Giants had accumulated as of June 30th of this year through North America and Europe. Impressive doesn't even begin to describe it, especially when you figure in that that 1.5 billion actually beat out all other action figure properties in the same time-frame in the UK. Yes, all.
"We began something very special with Skylanders, and the magic of bringing toys to life through a video game," said Eric Hirshberg, CEO, Activision Publishing. "But it's not just about the game. We know the toys have to be just as creative and imaginative as the kids that play with them, and that's why we're so excited to bring even more innovations to this genre when Skylanders SWAP Force™ comes out in October."
Also kind of stunning is that those numbers are just for the time from January up until the end of June. That's a fact that leads to wondering just what Skylanders' total sales are as of now, in mid-August, and just where they'll be when Skylanders Swap Force drops this October.
Aside from sales figures, we also learned a very important fact today- that being just where it is that all those hats come from in Skylands… check out the infographic for that and more fun facts about everybody's favorite land of the floating islands. BOOM!