Rockstar Games has updated the official Grand Theft Auto V website with a special travelogue for those planning a September getaway in beautiful Los Santos.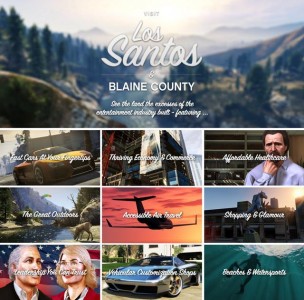 Going to Los Santos or Blain County next month? Then you'll probably want to check out Rockstar Games' special interactive travelogue so you can get all the latest news about this "unforgettable west coast destination".
Once you hit the new site feature, you'll have brand new screens of Grand Theft Auto V stars Michael, Franklin and Trevor in action. You'll also get a look at Trev's pal Nervous Ron… but he might best be left off of any tourist-y type info.
Take a peek at the newest artwork right here, check out that magical travelogue here and start planning your Los Santos getaway today! …not that you need to get away from anything or for any reason.