Kieth's dimension-twisting tale of super-heroics and 'real world' evil comes to publisher IDW with reprinted editions and then some.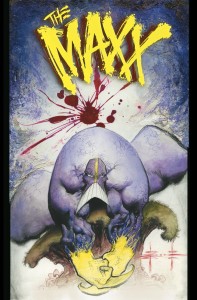 The Maxx has appeared under several publisher's banners over the years, but the character and the bizarre universe that Sandman co-creator (with Neil Gaiman) Sam Kieth dreamed up has kept it's super-unique feel and narrative all the way through. I first read The Maxx when it was a part of the Image Universe back in the 1990's and was caught up in the bizarre story of the Outback and the nebulous nature of reality that The Maxx put forth.
Now some 20 years after the character first appeared, publisher IDW is collecting the books into brand new editions with all the trimmings. The company is putting together "fully re-mastered and re-colored printings of the classic stories", all of which will be overseen personally by Kieth. Also on tap are 'Artist's Editions' of the books, that are being designed to give fans a front row seat to the super-detailed work of Kieth, who both created and penciled The Maxx.
For fans of the comics legend, this should be the definitive edition of arguably his best known work.
"I want to thank my pal Ted Adams," said Sam Kieth, "for giving me and some of my books a home at IDW… I hope he doesn't lose his shirt!"

"Sam, as usual, is self deprecating to a fault," said editor Scott Dunbier, "he's an amazing artist and a good friend, and I could not be happier to have him at IDW."
Aside from the reprinted The Maxx comics, IDW will also offer a series of three new art books from the author titled The Worlds of Sam Kieth. The books will "tell the story of who he is and how he came to be the artist he is". The first volume of the set debuted this past week at Comic Con with the rest scheduled to be along some time soon.
As for The Maxx, there's no word yet on any new stories that might be in the cards, but IDW does say that they are "looking forward to being intimately involved in the next chapter of this classic character's legacy", which bodes well for  fans looking towards the next chapter in The Maxx' saga.