To celebrate the landmark animated show's 25th year on television, some of the greatest 'guest stars' in Simpsons history are coming home courtesy of NECA and 20th Century Fox.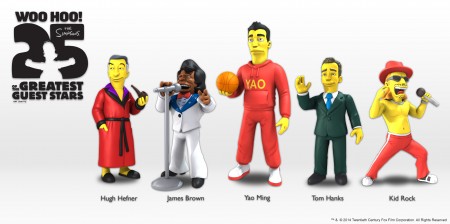 The first quintet of celebs to get the NECA treatment are pretty massive names in the entertainment industry. Hugh Hefner, James Brown, Yao Ming, Tom Hanks, and Kid Rock will all be transformed into their Simpsons universe likenesses for the new line of goodies.
Action figures, miniatures, apparel, games and more are all on the docket for toy and collectable maker NECA who are scheduled to begin rolling out the product in 2014. Right along with the announcement though is the news that the Simpsons Facebook page is alive and well and readily inviting fans to visit and leav their favorite guest star moments from the show's vast quarter century history.
Your voice matter to NECA and Fox here too as the most talked about and requested guest stars will be included in the new merchandise line in some way. What's more, ten Facebook commenters will be chosen to receive a "special Simpsons prize" as a thank you for participating. Pretty neat there.
It's hard to believe that the show, which started life as a feature on the Tracey Ullmann variety and comedy show, has actually been around for 25 years. People have actually grown up with Bart, Homer and the family and it's really become a part of the national psyche… if not the world's.
That said, it's kind of nice to see The Simpsons back in plastic.