The final shots of the Harbinger Wars are set to be fired across both Harbinger #14 and Bloodshot #13; two issues you definitely don't want to miss.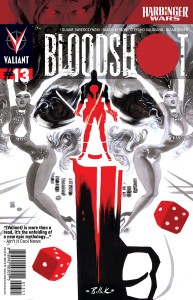 This coming week sees the release of Harbinger Wars #4 from Valiant Comics, the final issue of the limited series showcasing the company's first big crossover event. Harbinger Wars isn't over with that though as the very last shots of this mega-event will be featured in both Harbinger #14 and Bloodshot #13.
Choosing sides is never easy – especially when the decision could get you killed. As the lines between friend and foe blur and the casualties pile high, Peter and his team must decide where they stand in the war of escalation between Toyo Harada, H.A.R.D. Corps and Generation Zero. A reckoning is coming and one of the Renegades will put themselves on the line… What will be the fate of Faith? New York Times best-selling writer Joshua Dysart and acclaimed artists Khari Evans and Trevor Hairsine deliver the answer, only in Harbinger #14!

Then, fan favorite writer Duane Swierczynski and superstar artists Barry Kitson and Clayton Crain join the Harbinger Wars' final firefight in Bloodshot #13! Even if Bloodshot manages to win the day, will the tortured, traumatized, and über-powerful kids he's fought for choose to remain under the protection of the Harbinger hunter that once haunted their nightmares? Something's in the air – and a new era is unfolding for the weapon – no, the soldier – no, the man known as Bloodshot.
The two issues land on shelves this month, on the 24th. If you've been following Harbinger Wars (and I seriously hope you have been since it's been an excellent read) then these are the end-caps that you absolutely cannot miss out on. In the meantime, enjoy the special preview below.