The dominant digital comic book reader platform, comiXology is kicking e-comics into the Summer season with their Meet Your Makers promotion each week up until the San Diego Comic Con.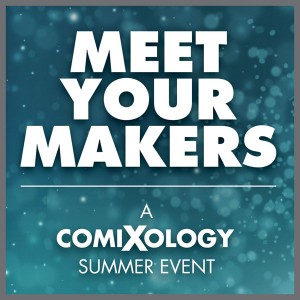 ComiXology will reveal a different aspect of the event, which'll be celebrating some of the great creators of some of the biggest comics in the industry.
"Without comic creators there wouldn't be any comics to enjoy, so all of us at comiXology wanted to use the summer to have a celebration of comic creators and the creation of comics," said comiXology co-founder and CEO David Steinberger. "We can't wait until people see what we have in store for this event!"

"At comiXology we're proud of our ability to help creators get their work to all corners of the globe," said comiXology co-founder John D. Roberts. "And we wanted to take the summer to give back to those creators that have given us so much."
The SDCC is the biggest pop culture and comic book convention of the year by a long shot and it's only logical that comiXology would be a part of the festivities. Aside from the Meet Your Makers promotion, the company will also be sponsoring (in part) the Eisner Awards Ceremony and the Comic Book Legal Defense Fund Welcome Party. This is also the second year that comiXology is a supporter and corporate member of the Comic Book Legal Defense Fund.
For more on comiXology and the Meet Your Makers promo, head on over to the official website of the company here.