Dark Horse Comics is launching their all new NewsFeed. And to celebrate, they'll be announcing a brand new San Diego Comic Con exclusive every day this week.
The NewsFeed is a great way of keeping up with all things Dark Horse, and at the moment, all things Dark Horse at the SDCC. So far the company has announced a pair of exclusives that you'll be able to grab at the biggest con of the year- a replica Stark family shield from Game of Thrones and a 'black light' Troll doll.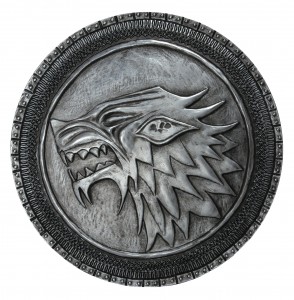 The crest of one of the biggest family's from the GoT universe is sculpted at a scale of 7″ and comes with a rear hook for wall mounting in your own keep or castle.
It will sell for $30 at the Dark Horse booth (which is always a great time by the way) and is limited to two pieces sold per person. And that's a very good thing, because this bad boy only has a run of 1,200 pieces. Being that we're talking the Stark crest there, that means that they're probably going to absolutely fly out of the conventions center- so get there early if you want one.
Also pretty awesome are the Troll dolls. These little guys are neon green and have a shock of white hair – and they're black light reactive. So you've officially got an excuse to bust out that black lightbulb you plug in at Halloween a little early this year.
The Trolls are packed in a random shipper and are $7.99 each with a limit of four per person (so you can make your own Troll-Beatles!). Like the shield from GoT, there's only a set number of these at the con too and at only 1,000 they'll probably go fast. So the early bird and all that…
You can tap into the Dark Horse NewsFeed right here or follow them on Twitter right here for more (and of course, keep it right here for all the latest on DHC as always). There'll be another exclusive announced today and every day this week, so stay tuned- and don't forget to stop at booth # 2615 to check out all Dark Horse has to offer at the biggest pop culture event of the year, the San Diego Comic Con this coming July.