Konami has officially announced that the Metal Gear spinoff will be making its way to the PC.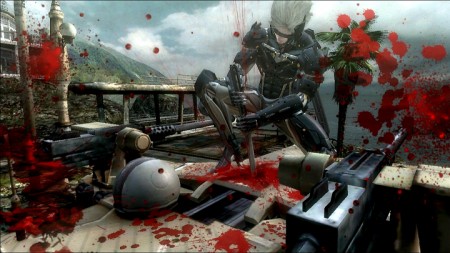 Metal Gear Rising: Revengeance is a very different breed than most other Metal Gear titles in that it's pretty much all action. You won't find any sneaking suits here as cyborg ninja Raiden is all about hacking and -yes- slashing his enemies into little, tiny bits of robot coleslaw.
Highlights? Sure, we've got highlights:
• The Latest METAL GEAR Experience: Featuring an all-new style of frenetic action gameplay and central character, Raiden, a cyborg ninja who uses his High Frequency Blade to cut through anything that stands in his vengeful path!

• A New MG experience: Combining development powerhouses Kojima Productions and Platinum Games together, METAL GEA RISING: REVENGEANCE will offer fast and fluid gaming centered on katana-based combat within the METAL GEAR universe.

• Advanced technology: The in-game technology promises to push the boundaries of graphics, style and lightning-speed action at a blistering 60 fps on most modern PCs

• ZanDatsu Cut Mechanic: Take advantage of what has been created – "an all-encompassing cutting plane in real time." Cut what you want, when you want, any way you want.
We had a database malfunction a while back and, though our review of the game was lost, we gave MGR:R an 8 and really liked the game quite a bit. So if you're on a PC and feel like slicing and dicing, you might want to check out Metal Gear Rising: Revengeance from Konami.
The game is available now on the Xbox 360 and PS3 and will be out soon on the PC.