Walter White will be present at the San Diego Comic Con with one 'hazardous' show exclusive.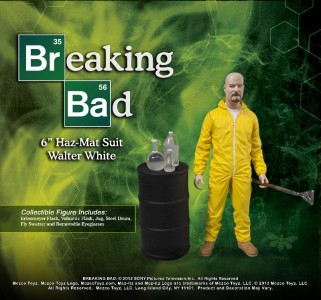 The popular show's main character Walter White appears in his yellow has-mat suit for this exclusive figure from Mezco Toyz. And because there's no rest for the wicked, Walt also comes complete with a 55 gallon chemical drum and a set of three lab bottles- you know, for making… stuff. In a very cool move, Mezco will pay homage to the show (and one specific episode in particular) by including Walter's flyswatter in the package as well. That's just neat.

How do you make that even cooler? Add a 'discrete' (and very collector friendly) box from Los Pollos Hermanos over the whole thing as a slipcover. Now keep in mind that you won't find this anywhere else other than the SDCC this July, so if you want one- get there EARLY. Mezco will only be making 1500 of these for the show and once they're gone, they're gone.
You will find a small amount available on Mezco's website, but they won't include the slipcover- so if you want in on that, get thee to the SDCC and booth #3445.