Rockstar Games and GameStop announce a special edition of the hotly anticipated crime epic that'll be exclusive to the the retailer.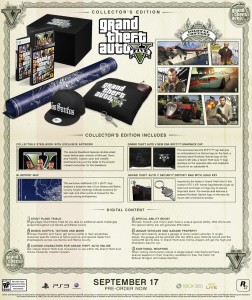 Having a Collector's Edition announced for a game as big as Grand Theft Auto V isn't really much of a surprise. CE's are something of an expected eventuality when you talk about your more highly anticipated game releases after all. This one is a little different though.
That's because, aside from the generous amount of physical swag that you'll get in the box (which is very reminiscent of the excellent GTA4 set by the way), this Collector's Edition is exclusive to the US retailer GameStop in North America. That's a pretty big 'get' for the 'Stop considering how much of a juggernaut GTAV is expected to be with many calling it 'the last big game of the generation'.
If that's true, then this gen is going out with a bang as this is one loaded set. In all, you get:
· A Grand Theft Auto V security deposit bag with Rockstar Games logo key – unavailable for purchase anywhere else!

· A Grand Theft Auto V New Era 9FIFTY™ cap with an embroidered Los Santos logo on the front, a stitched Rockstar Games logo on the wearer's left side, a Grand Theft Auto 'V' logo applique on the opposite side, and snapback closure for an adjustable fit – also available exclusively in the Collector's Edition!

· A 21.5'' X 26.75″ map displaying a blueprint view of Los Santos and Blaine County

· An in-game special ability boost which allows Michael, Franklin and Trevor's special ability bar to generate 25% faster

· In-game single-player stunt plane trials that let players take on additional aerial challenges

· In-game additional weapons: the Pistol .50, Bullpup Shotgun and melee Hammer

· Unique vehicles and a garage property to store custom vehicles. In single-player, the garage will be stocked with the 1930's style Hotknife hotrod and the CarbonRS sports bike. In Grand Theft Auto Online, players will get the high-end Khamelion electric car.

· In-game bonus outfits, tattoos and more

· Custom Characters for Grand Theft Auto Online
All that plus a steelbook case (the kids just love those) emblazoned with exclusive artwork. If you're in for one (or just the Standard or Special Edition), you might want to preorder now as doing so nets you the Atomic Blimp in-game vehicle. I mean, come on, do I really have to explain the cool factor of piloting a blimp to you?
Grand Theft Auto V from Rockstar Games arrives on the Xbox 360 and PS3 on September 17th. A standard copy will, of course, cost you the typical $59.99 (USD), while you can expect to pay $79.99 for the Special Edition and $149.99 for the Collector's Edition detailed above.