If you're sneaking on over to the London MCM Comic Con this weekend, you might want to stop off at the Xbox360achievements game stage to check out some stealthy Splinter Cell Blacklist action.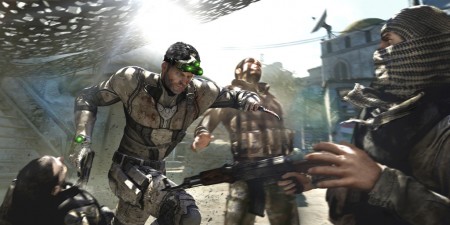 Extra 'cool' points for this one because Splinter Cell art director Scott Lee will be there and will actually be the one demoing Blacklist. Even cooler- Lee will be playing through sections of the game that've never been seen live in the UK before.
After each of the three play sessions, he's even going to hang around for a bit and do some signings, so make sure you bring your Ubisoft and/or Splinter Cell goodies for autographing.
Here's your schedule for the show:
Friday Stage time 16.00 (24th May)

16.00 Splinter Cell Blacklist Overview Session

In the first of three Splinter Cell Blacklist sessions, Ubisoft gives us a rundown (with gameplay) on what gamers can expect from their latest title in the popular franchise.

Saturday Stage time 16.00 (25th May)

16.00 Splinter Cell Blacklist – Stealth Demo

Stealth purists rejoice! Ubisoft will be on hand to give fans a run through of Splinter Cell Blacklist, the way Splinter Cell fans will be used to… with buckets of stealth!

Sunday Stage time 15.00 (26th May)

15.00 Splinter Cell Blacklist – Action Demo

The third and final Splinter Cell Blacklist session puts action at the forefront as Ubisoft shows fans who aren't enamoured with stealth that aggressive action gameplay is just as viable.
The Uk's number 1 pop culture and comic con, the London MCM Comic Con will be held in London (shock!) at the Royal Victoria Dock, May 24th through the 26th.