All the talk these days may be about Kirk and Spock, but Star Trek: The Next Generation still has a massive following that toy maker DST hasn't forgotten about with their new Star Trek Select toy line.
The first offerings in the new line are indeed the original Captain of the Enterprise and its First Officer Spock, but after they see release it'll be Captain Picard's turn on the pegs.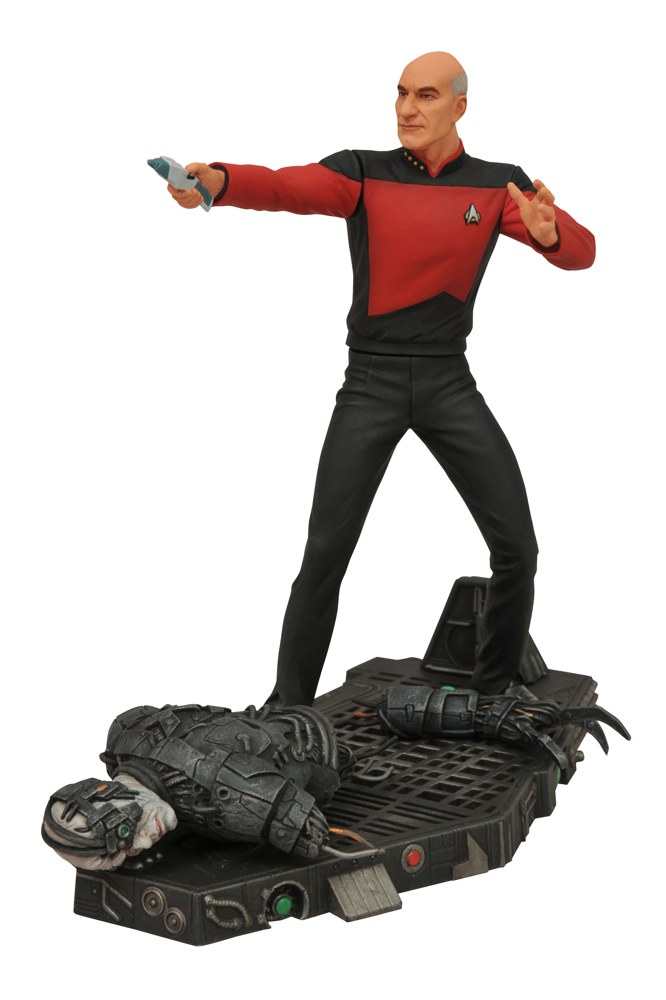 Star Trek Select Kirk and Spock are on their way to U.S. shores, and fans are already looking beyond them to see who will follow in their footsteps. Well, Diamond Select Toys has unveiled the next Select, and it's the captain of the U.S.S. Enterprise D and E, Jean-Luc Picard! Wearing his classic TV outfit, Picard has been captured in the middle of a previously unseen engagement with the Borg, firing his phaser aboard a Borg ship, with a fallen foe at his feet. The figure will feature limited articulation and a detailed likeness by Patrick Piggott (prototype shown), and will come in shelf-ready Select display packaging. Look for him to beam down this fall, and join Captain Kirk and Spock in the Select hall of fame! Pre-order him today at your favorite online retailer or your local comic shop!
Picard is looking pretty cool in the second evolution of the ST:TNG Starfleet uniform and I absolutely LOVE the base- though I challenge you to find a TNG fan who doesn't think the Borg are awesome.