One of the best new publishers on the block will be in Chicago for the C2E2 con, and they'll be packing a truckload of cool stuff and special guests aplenty.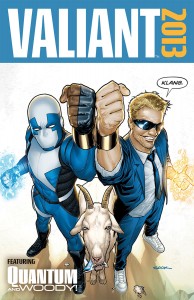 Valiant has been beyond impressive since their re-debut last year and with the convention season heading back into full swing, they're readying a full assortment of impressive stuff for you to take home and guests for you to see.
Make sure you stop by Valiant's booth (#1029) on the show floor to grab a gratis copy of the Valiant Summer 2013 Preview Edition. This handy dandy little book is a C2E2 exclusive and contains a sneak peek at the publisher's next big thing- Quantum & Woody. You'll also find a preview of Harbinger Wars #1 in there, so what's not to like?
Valiant will also have a full compliment of comics, trades, hardcover editions, and tee's on hand for you to buy and there'll even be a con exclusive Harbinger Wars #1/Shadowman #1 blank flip book there for your perusal and purchasing. That's one that fans of the books probably shouldn't miss.
Panels? You want panels? Yep, they have them too:
…find out everything you need to know about the Valiant Universe in 2013 on Saturday, April 27th at 4pm in room W471 for the Valiant 2013: Harbinger Wars and Beyond panel presentation! With the landmark events of Harbinger Wars and Planet Death currently underway, find out what's next for Valiant's greatest heroes directly from a panel of Valiant insiders, including X-O Manowar writer Robert Venditti, Harbinger Wars artist Clayton Henry, Executive Editor Warren Simons, Publisher Fred Pierce, and CEO & Chief Creative Officer Dinesh Shamdasani.

And just to round things out, some of the company's biggest talents will be on hand for signings at different times throughout the show. You can look forward to seeing luminaries such as New York Times best-selling writer Robert Venditti (X-O Manowar, Demon Knights, The Surrogates), New York Times best-selling artist Clayton Henry (Harbinger Wars, Archer & Armstrong, Incredible Hercules), and acclaimed artist Mico Suayan (Harbinger, Batman: The Dark Knight).
Finally, after you've seen all that, get down to the show on Sunday April 28th at 11:30am for a special presentation called Valiant 2013: The Craft of Comics with Warren Simons. This is going to be a rare behind the scenes panel where you'll be walked through the ins and outs of making a book and bringing it to market- not something to miss out on if you have any interest in the industry at all.
Now that's a lot of awesome to pack into one little show. For more info on this weekend's C2E2 click here, and to learn more about Valiant Comics, hit this link.